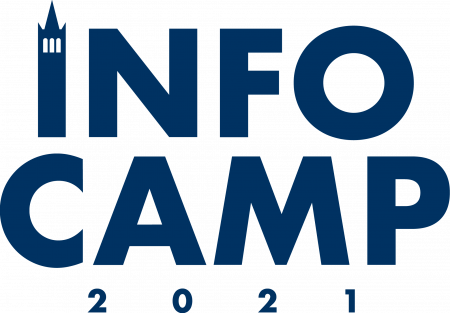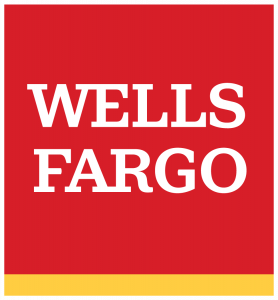 Launched in 2010, InfoCamp has become a premier event within the information community. Held every year by the students at UC Berkeley, School of Information, it draws over 150 professionals and students from different disciplines and interests such as engineering, UX design and research, data science, product management, and tech policy, and challenges participants to re-imagine information technology and bring solutions to real-world problems. This year the 2021 InfoCamp will feature an Idea-thon and a speaker series. The event format will be hybrid due to the COVID-19 pandemic, and participants can choose to join fully online or in-person in South Hall at UC Berkeley.
Are our data ourselves?
Are our data from ourselves? or
Are our data representations of ourselves? 
With the development of AI and machine learning technologies, data can be applied and utilized in increasingly more settings and purposes, yet it also brings its share of controversies and crises. This year, we would like to draw attention to the ownership and distribution of data, focusing on conflicts of interest between businesses & individuals in data control and policy.
In this 2-day event, you and your team will tackle real-world challenges related to data issues – specific challenge details will be provided during the event. The winners will walk home with gift cards and the swag bags.
This event is FREE and open to anyone interested in information and technology. You can register with a team (3-4 people per team) or individually. If you do register individually, please note that we will place individual registrants into teams and you will be notified shortly before the event.
Come learn, network, and get inspired!
Day 1 : Saturday, October 16th
Time

Activity

9.30 – 9.45am

Introduction & Kick-Off

9.45 – 10.15am

Keynote

10.30 – 11.00am

Ideathon:
Introduce cases & task

11.00 – 12.00pm

Ideathon: Brainstorm

12.00 – 12.45pm

Talk: Gaming & Media 

12.45 – onward

Ideathon: Work time
Day 2 : Sunday, October 17th
| | |
| --- | --- |
| Time | Activity |
| 9.30 – 10.15am | Talk: DeepFake |
| 10.30 – 12.00pm | Ideathon: Work time |
| 12.00pm | Submission due |
| 12.00 – 12.45pm | Talk: BlockChain |
| 13.00 – 3.00pm | Ideathon: Presentation |
| 3.30 pm | Announce winners |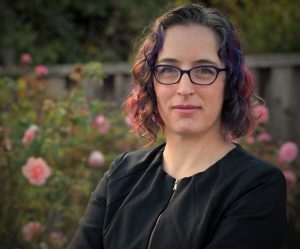 Morgan G. Ames is an Assistant Professor of Practice in the School of Information and Associate Director of Research for the Center for Science, Technology, Medicine and Society at the University of California, Berkeley. Her book The Charisma Machine: The Life, Death, and Legacy of One Laptop per Child (MIT Press, 2019), winner of the 2020 Best Information Science Book Award and the 2021 Computer History Museum Prize, draws on archival research and ethnographic fieldwork in Paraguay to explore the cultural history, results, and legacy of the OLPC project – and what it tells us about the many other technology projects that draw on similar utopian ideals.
Speakers - Gaming & Media
Anshumani has spent the last 17 years crafting experiences and products for users: first as an author of children's books, then as a game designer on some of the world's largest social games (Mafia Wars, Cafe World, etc) and then as a product manager across various consumer tech businesses (gaming, messaging, healthcare, education and media) in India and globally. He is currently the global app product lead for Google Pay.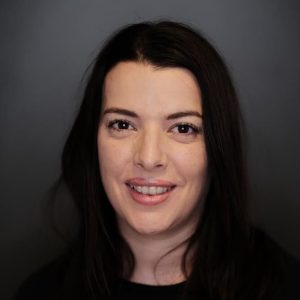 Ludivine is a group product manager at Unity where she is responsible for developing and executing the strategy for new multiplayer game services. Passionate about building solutions to enhance player experience, Ludivine has created a dynamic team dedicated to powering healthy and safe communities of players at Unity.Ludivine has witnessed directly the rise of toxicity in online gaming in the various games she has worked on, which has motivated her to advocate and research a comprehensive approach to the problem. She believes in the strength of kindness and that operant conditioning will change the games space by normalizing and reinforcing positive play across the industry. Prior to leading the products and initiatives for safer online communities, Ludivine led the product development of deployment, monetization & customer support toolings in Ubisoft global services team used by games such as Rainbow Six Siege, Ghost Recon: Breakpoint, Assassin's Creed: Odyssey, and For Honor.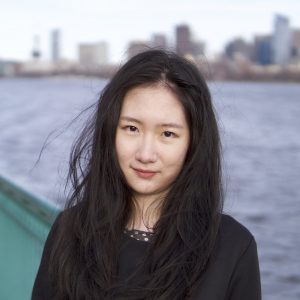 Sijia Xiao is a third year PhD student at the School of Information, UC Berkeley. Her research interests are in human-computer interaction and social computing. She works on issues related to online governance and online harassment, and is particularly interested in how alternative justice frameworks such as restorative justice and transformative justice may apply to those issues.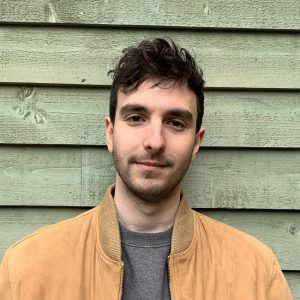 Henry is Head of Policy & Partnerships at Metaphysic, a company pioneering the ethical development of hyper realistic synthetic media technologies. A leading expert on deepfakes, Henry's research has shaped global understanding of synthetic media and its societal impacts.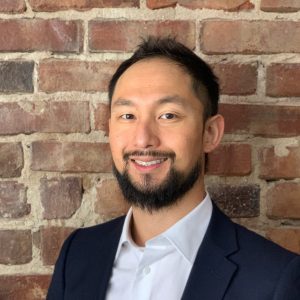 Raymond Lee is the CEO and Founder of FakeNetAI, a cybersecurity firm serving enterprises and individuals that leverages artificial intelligence to detect synthetic media, or deepfakes. As a graduate student at UC Berkeley, he immersed himself in developing machine learning models to detect deepfakes, leading to the creation of FakeNetAI. During his time at Cal, he was a member of Machine Learning @ Berkeley, the Graduate Data Science Organization, and the UC Berkeley Boxing Club. Prior to studying at Cal, Raymond spent several years as an analyst in energy and biotech. His hobbies include open water swimming, surfing, and golfing.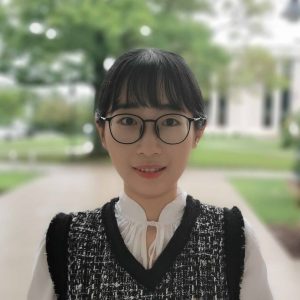 Shan Jia is currently a Senior Research Scientist at the Department of Computer Science and Engineering of University at Buffalo (UB), State University of New York, working with Professor Siwei Lyu. Before joining UB, she was a visiting scholar at West Virginia University, working with Professor Xin Li and Guodong Guo. She received her Ph.D. degree in Communication and Information System from Wuhan University in 2021. Dr. Jia's research areas are mainly focused on multimedia forensics, biometrics, and computer vision.
Shruti Agarwal (Moderator)
Shruti is currently a postdoctoral researcher in the School of Information at the UC Berkeley (UCB). She received her Ph.D. from the Department of Computer Sciences at UCB under the supervision of Prof. Hany Farid in the field of multimedia forensics. Her dissertation topic focussed on designing and developing algorithms for deep-fake detection. She has previously worked as a software developer in the Adobe Illustrator team at Adobe, India. She received her master's and bachelor's degree in Computer Science from the Indian Institute of Technology (IIT) Delhi, India and Harcourt Butler Technology Institute (HBTI), India. Her primary research interest lies in multimedia forensics, image analysis, machine learning, and computer vision.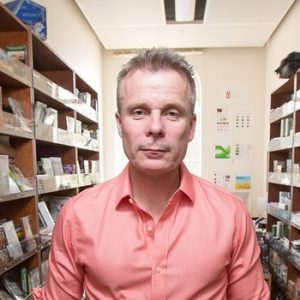 David is a professor at University of California, Los Angeles (UCLA) with more than 20 years of teaching experience, specializing in Comparative Literature, Musicology, and Digital Humanities. His recent researches include "Blockchain construction in response to inequities within Russia's recording and publishing industries," "Construction of comparative database from two million audio files for Wende Museum, Los Angeles," and etc. In addition, he is leading the Hyperledger Media & Entertainment Special Interest Group( ME-SIG) that focuses on the application of Hyperledger DLTs to media-specific and entertainment use cases. Such activity will automatically foreground topics such as decentralized metadata, digital distribution, copyright protection, royalty payments, value chains, NFTs (non-fungible tokens), tokenized content, counterfeit reduction, and registered digital ownership.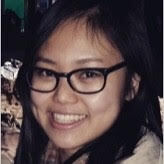 Nancy Min is the Founder and CEO of ecoLong, a software development startup located in New York. She leads the research and development of multiple U.S. DOE funded projects including a blockchain based peer to peer transactive energy platform. An avid advocate of blockchain technology, she serves as the Chair of Hyperledger Social Impact Special Interest Group (SI-SIG), hosted by the Linux Foundation. In this role, she works with a global community to identify high-impact blockchain use cases that drive social good. She previously worked at Deloitte Consulting exploring and developing technologies for the federal, state, and private sectors. Her primary research interests are on technology strategy, large scale enterprise systems, and decentralized cyber systems.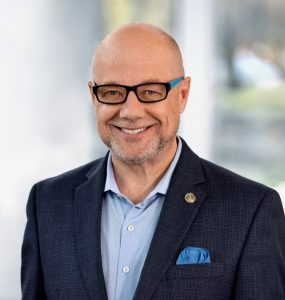 Luke Kowalksi (Moderator)
Luke is a lecturer at UC Berkeley's Sutardja Center for Entrepreneurship & Technology (SCET). He is also the Co-Director of Blockchain X-Lab at SCET.
Luke currently serves as a VP in the corporate architecture group at Oracle reporting to one of Larry Ellison's EVPs. Before Oracle, he worked for various startups in technical, design, and business roles, as well as for Netscape's Server and e-commerce divisions. He holds several patents and professional certifications. He also teaches a 'Blockchain Challenge Lab' and also other related courses like Building with 'Blockchain for Web 3.0' at UC Berkeley. Luke specializes in areas like technology policy, industry standards, community, security, and government affairs.
Highlights from InfoCamp 2019
The School of Information is UC Berkeley's newest professional school. It exclusively offers graduate programs and its alumni hold positions as Software Engineers, UX Researchers, Designers, Data Scientists, Founders, Consultants and Product Managers in established technology companies, start-ups, consulting and financial services organizations in Silicon Valley and around the world. 
Contact us:  imsa@nullischool.berkeley.edu
© 2021 by IMSA (Information Management Students Association)